RaceWire Auxillary PDM-07 Street Rod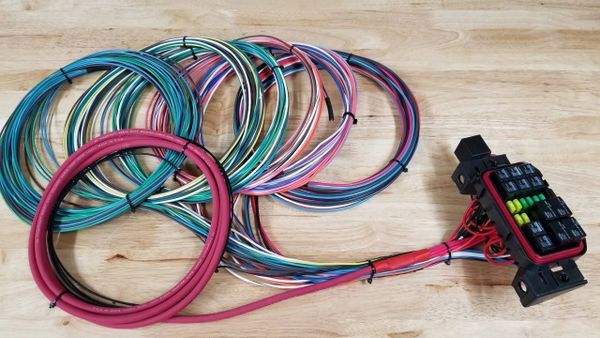 RaceWire Auxillary PDM-07 Street Rod
  RACEWIRE Solutions is proud to introduce a new line of Auxillary Relay PDM units for drag race and street cars. The PDM system is capable of operating in high vibration environments such as drag racing, off-road, and strip/strip cars. These PDM units use common plug-in fuses, relays and circuit breakers. These modules are designed for higher power outputs, and IP67 rated for moisture and sealing if the need is there.

This unit is designed for the consumer who wants to wire their car themselves without the hassle of using "Universal Green PC" type relay type boards.
This PDM-07 Street Rod  unit comes with the relay/fuse block, 15' wiring harness for each relay output, 10ft wiring harness for the inputs, and 6ga Power cable.  This unit will cover the needs of alot of customers who need one central location for the main chassis electrical system.

PDM-07 - Street Rod
Headlights (2 outputs)




Parking Lights (4 Outputs)

Dash Lights Circuit

12V Ignition Gauge Power

Integrated 4 Corner Turn Signals and Brake Lights

Brake Light Switch Wiring

Ignition Relay - 35 amp 

Starter Relay - 35 amp

Water Pump Relay (20 amp)

Fan Relay - (35 amp)

Trans Cooler Relay - (20 amp)

Transbrake Relay - (20 amp)

Ignition Box Output signal wires (Ignition 12v, transbrake signal for 2 step,

2 Ignition Power, Spare Circuits

Flasher Module Included (LED Light Capable)

All Pre-wired

15ft Wiring Output Harness to all components.

8ft Wiring Input harness

Optional Matching 8 Switch Roll Cage Switch panel (Starter / Ignition/ Fuel Pump / Water-Fan/ Trans Cooler / Turn Signals / Head Lights-Park Lights/ Aux).  Retail is $425 for the switch panel, discounted to $395 for this wiring package.
PDM-07 - Street Rod - Optional Add-on Module
Fuel Pump #1 (50 Amp Relay)

Fuel Pump #2 / Intercooler Pump / Nitrous System (50 Amp Relay)

Head Light Brights - 2 outputs (35 Amp Relay)
Fog Lights / NItrous Purge (20 Amp Relay)
Aux #1 Relay (35 Amp)
Aux #2 Relay (35 Amp)
Aux #3 Relay (35 Amp)
Aux #4 Relay (20 Amp)

All Pre-wired

15ft Wiring Output Harness to all components.

8ft Wiring Input harness