RaceWire MVEC Relay Module's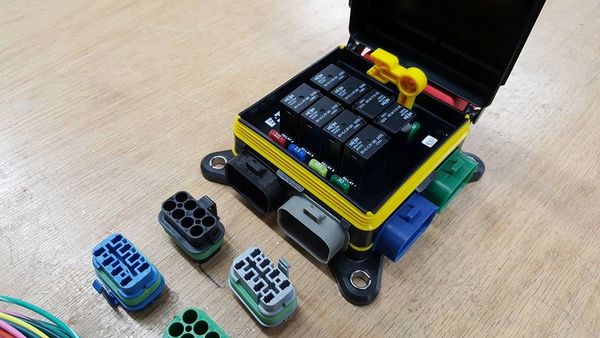 RaceWire MVEC Relay Module's
***Module #1 and #2 are In Stock
    RACEWIRE Solutions is proud to introduce a new line of Modular Vehicle Electrical Center's (MVEC) for drag race and street cars. The MVEC system is capable of operating in high vibration environments such as drag racing, off-road, and strip/strip cars. The MVEC provides efficient and compact power distribution across demanding applications in the racing industry.  The MVEC uses the patented 'power grid' technology while using a unique color-coded and keyed connector system, and accepts common plug-in fuses, relays, circuit breakers, resistors, diodes, etc. These modules are 200/400 amp capable, and IP66 rated for moisture and sealing.
    The MVEC comes in four different modules as listed below. The MVEC is designed for the consumer who wants to wire their car themselves without the hassle of using "Universal" relay type boards.
Each MVEC system comes with the MVEC relay/fuse block, **Optional Overhead switch panel, **Optional 15' wiring harness for each and every circuit you choose, and 6ga Power and Ground Input cables.
Module #1 - MVEC-01 Standard
8 - 35 amp relay circuits, with fuses for each relay
Module #2 - MVEC-02 Standard
16 - 35 amp relay circuits, with fuses for each relay
400 Amp Capacity (Dual Version)
200 Amps maximum rating, 30 Amps per output pin, and 100 amps per output connector.




Size approximately 5" x 5"




M8 Input studs (100A max per input stud).




Durable plastic housing featuring a Gortex vent.




Internal silicone gasketing between all seams and plastic to terminal interfaces.




Completely Loaded with components including but not limited to: fuses, relays, diodes, circuit breakers, fuse puller.