RaceWire Solutions Billet USB Data Bulkhead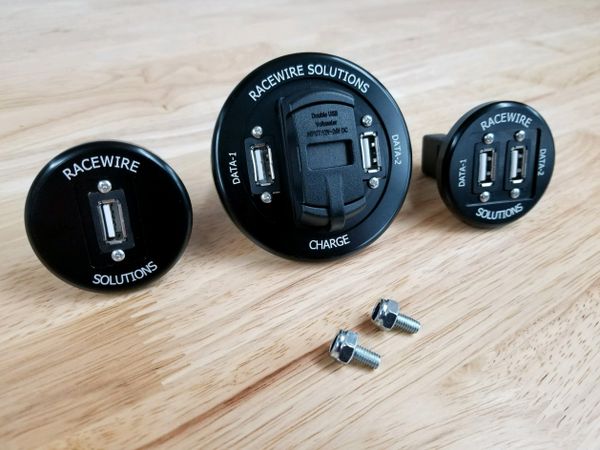 RaceWire Solutions Billet USB Data Bulkhead
After many customer requests for these due to our un-surpassed attention to detail and quality, we now have Billet aluminum USB bulkheads available.  These were designed to keep the common USB cable clutter free and hidden, with a simple and easy connection point to your ECU, Datalogger, Dash, Progressive, etc.
Our USB bulkheads are machined out of Billet 6061 Aluminum, anodized black and come with Laser etching.  The single and dual USB bulkheads use a 1.375 (1-3/8") hole saw for mounting, and utilize hidden hardware on the back side (studs) for mounting.  A drill template is included as well to help simplify installation.
We also offer a Dual USB Data bulkhead with a dual USB 2.1 amp charging port installed.  The dual charging port version is available with or without a lighted, digital volt meter.
These USB data bulkheads are most commonly installed in the dash, door jamb, or wiring control panel for ease of use. Below, we have a selection of cables to connect to the most commonly used components in a race/street car.  

- 3 ft USB to Mini USB (MSD Grid style) Cable
- 6 ft USB to Mini USB (MSD Grid style) Cable
- 10 ft USB to Mini USB (MSD Grid style) Cable

- 3 ft USB Male to USB Female Extension Cable
- 6 ft USB Male to USB Female Extension Cable
- 10 ft USB Male to USB Female Extension Cable
- 9", 90 degree USB Male to USB Female Extension Cable