RWS Billet Aluminum EGT Quick Disconnect Plates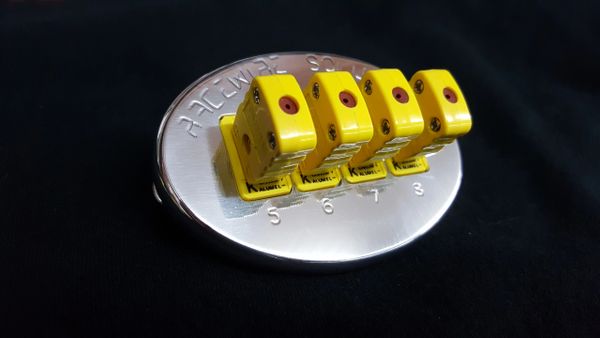 RWS Billet Aluminum EGT Quick Disconnect Plates
These are the NEW All Billet Aluminum EGT Quick Disconnect firewall plates.  These can be used on ANY Type "K" Thermocouple EGT system to aid in passing cables through the firewall.  These allow you to have a quick and easy way to disconnect the EGT sensors at the firewall when removing an engine or whatever else you might need.  

Works great in the Holley EFI - EGT Application

Comes in either Ford Style (1-2-3-4 and 5-6-7-8) or Chevy Style (1-3-5-7 and 2-4-6-8) numbering
These are available in either fully polished as shown, or Bright Dip Black anodize finish. 
Mating plug on firewall side is included, while the back side has terminal screws for your existing wires to connect after cutting.
Mounts in a very easy, 2-1/4" diameter hole, template is provided.