RWS RaceConnect 12 Button Keypad Module V1 - Race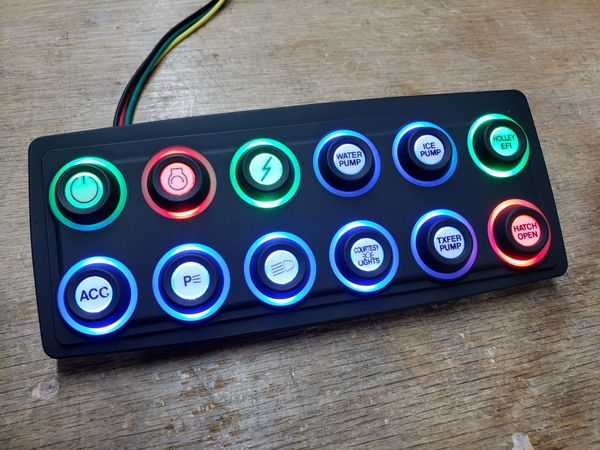 RWS RaceConnect 12 Button Keypad Module V1 - Race
Our new CAN Keypad & controller is the latest offering we have added to our broad line up of switch panels.  This module is available in 8 and 12 button keypads, with a matching 14 output CANbus relay module.  These canbus keypads are the most rugged offering we have on our site, and are water and dust/dirt proof.  With the provided 14 channel canbus module, customers have the ability to run circuits that use up to 5 amps of power OR use this to trigger any sort of relay center or ECU.  All outputs are labeled on the harness if you chose to wire up your own relay center.  Otherwise we can pair this to our 12 relay module for a plug n play operation.
This will be available in either a flat panel mount in a 8" x 10" piece of carbon fiber (for you to you trim to fit) or with the optional billet cage mounted box.
Switch Panel harness is a small, 4 wire cable that is 12ft long, so you can easily reach anywhere in the car with the canbus relay module.
Each 12 button keypad will have qty 2, dual operation switches.  Press once for water pump, press again for fan, press 3rd time and the switch/circuits shut off.  Same for parking lights/head lights. 
Main Power – master kill of all switches on keypad
Starter
Ignition
Fuel Pump
Water/Fan
Trans Fan
Datalog
Park Lights/Head Lights
Aux 1 or Left Turn
Aux 2 or Right Turn
Aux 3
Dome Lights
These have a 2-3 week lead time to get rockers etched and switch panel programmed. The billet cage boxes are 4-6 weeks out right now.