X275 / Full Race Control Panel System - Boosted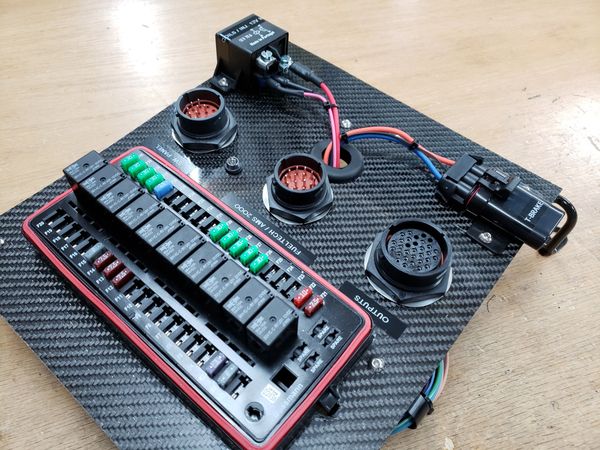 X275 / Full Race Control Panel System - Boosted
  This control panel system was based on one of our most popular systems - The Universal EFI Boosted Application. This was designed around a customer who knows how to do their own electrical wiring, but wants everything included into one main system. This control panel system is setup around those guys with full race cars that don't need all of the extra stuff.  This was designed for a race car in mind, and the circuits needed to supply everything needed. With this control panel, you will be able to operate any EFI Boosted application with ease. While most commonly used with a Holley EFI system, this can be used with FAST XFI, MS3 PRO, and Fueltech.
    With this system, it is designed to operate a complete car with all of its components and accessories. Once you receive this system, you will route the separate bundles of wire to their specific locations based on the connector pin-out sheet I provide you for each output connector.  Below is a list of included circuits in this Holley EFI Custom Control Panel. This package has an optional switch panel in the pull downs below.
Holley EFI Boosted Control Panel Package Details:
10.5" x 12" in size




Mounted on a .040 carbon fiber sheet

24 Pin Deutsch Connector -  Switch Panel Harness

14 Pin Deutsch Connector - Holley/EFI / Boost Controller Integration Wiring

31 Pin Deutsch Connector - Main Outputs 1

75 Amp Fuel Pump Relay (Optional add on)

75 Amp Smart Coil / Injector Ignition 12V Relay

Holley Solenoid Driver for EFI Integrated Bump/Creep System (Optional)

Holley Solenoid Driver for EFI dump valve control (Optional)

15ft WIring Harness for ALL Outputs

8ft Wiring Harness for EFI Integration Wiring

8ft Wiring harness for External Boost Controller (optional)

8ft - 6ga Red/Black Power Cables

Switch Panel will have pre-cut and terminated 10ft long harness w/ connector installed for connection at the Control Panel.

All systems are pre-tested before shipment to verify everything works as described.




All systems also come with a wiring pinout sheet showing what every terminal screw does, where it goes, and what color wire it is.  
Included CIrcuits:
Water Pump
Engine Fan
Transbrake (Integrated with EFI Driver for Bump/Creep of staging the car)
Linelock
Dump Valve #1 - w/ EFI Controlled Activation
Starter "Solenoid" Activation Signal Wire (Integrated Thru Neutral Safety Switch)
Electric Shifter - EFI Activated (Aux use as well)
Brake Lights
Head Lights - Single Set Only
Rear Parking Lights
Holley EFI Integration Signal Wiring Inputs/Outputs to Holley from Control Panel
Holley EFI Dash / Racepak Dash Wiring
Holley Integrated Boost Solenoids (Wiring to solenoids inlcuded)
Transbrake Switch Wiring
Linelock Switch Wiring
Brake Switch Wiring
Bump Switch Wiring (Optional)
Neutral Safety Switch Wiring
***Optional 15ft Floating Ground Output Harness (Grounds for all components)
***Optional Starter Bump Button wiring
***Optional Reverse Lights
***Optional Dual Set of Head Lights w/ Dimmer Switch Wiring