Universal Mil-Spec Harness - Holley/MS3/BS3/FAST/Fueltech/Haltech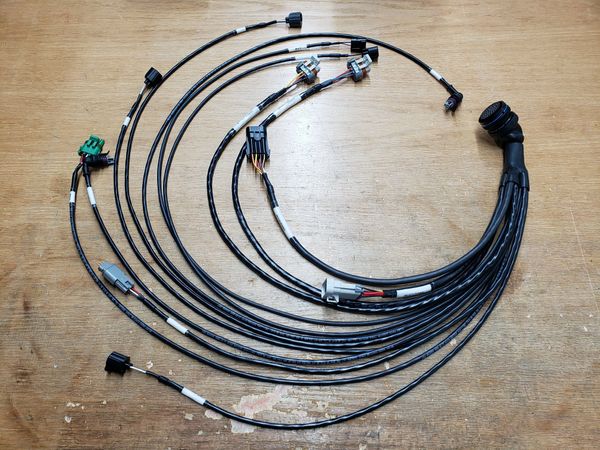 Universal Mil-Spec Harness - Holley/MS3/BS3/FAST/Fueltech/Haltech
   For those guys out there who want a custom built engine harness for their car, look no further.  I have posted these harnesses for years on my Facebook business page, but now these are available to purchase through my web store.  This harness has two main options....cut to fit engine sensor cables and terminate the sensor connectors yourself OR fill out my form and I will terminate everything for you.
    This harness conversion uses  either a customer supplied engine harness OR I can provide a universal unterminated harness to start with. The Milspec harness comes terminated at the firewall per your measurement from ECU to Firewall with a 61 Pin aluminum bulkhead, Billet Firewall Bulkhead mounting plate for the connector, and 60" of Length for each and every sensor listed below, plus the applicable sensor connector for you to terminate.  If you don't have the skill-set to terminate the cut to length sensor cables, I can do that for a fee as chosen below.  ALL sensor connectors will be bagged with terminals and pinout's for you if you chose cut to fit and self terminate.
The Base harness as shown comes with the following sensor cables and circuits w/ 60" of cable per sensor
Cam Sensor
Crank Sensor
Single Wideband
Coils ODD or Ford 1234
Coils EVEN or Ford 5678
Injectors (Single set of 8)
MAP
CTS (Coolant temp)
MAT (Air Temp)
Fuel PSI
Oil PSI
TPS
IAC
For Harnesses that require dual wideband sensors, the IAC will need to be removed for the extra available pin locations.
If you have a dual Injector setup, please contact me for details as we can do this too!